Posted by BBL/P
Read time:

...
The global luxury automotive industry
A canary in the coal mine for aspirational brands
Little has changed in the car buying process for decades. Restricted supply even for ordinary vehicles, inexplicable delays, opaque pricing, notoriously slippery sales people are familiar now as they would have been to previous generations.
And the vehicles are also barely evolved. The driver sits behind controls a motorist from the 1920's would recognise, the engines, whilst being more sophisticated, still take a combustable carbon derived fuel and blow it up in order to produce a mechanical reaction that finds itself to rubber tyres as the thing is propelled along.
Sure enough, component for component, modern cars are much more sophisticated but the means of production, the structure of the industry, the responsiveness to customer needs and desires, the sourcing of materials, the way they are distributed, owned and disposed of and what they actually do and are capable of in service feels eerily familiar to the cars of my parents generation.
And then everything changed. In the last few years the traditional world of automotive manufacturing has transformed and this is only the beginning.
It's not just an ingenious maverick disrupter arriving on the scene in the form of Tesla - formed in 2003 and now with a Market cap of over a $trillion (Jan 2022) and joining the rather exclusive club alongside Amazon, Apple, Microsoft and Alphabet.
Tesla is now worth the combined value of Toyota, VW, Daimler, Ford and GM (It may not last as car manufacturers scramble to imitate Tesla but it's the most humbling disruption story in business today).
More interesting is the widespread adoption of change to come - electrification, connectedness, autonomy.
So let's review the perfect storm (much over-used phrase in business but never more true than here) that the motor industry is still in the eye of. It's fascinating as both a story of what may be to come for many markets as well as an exciting vision of what the future holds - and to borrow a phrase, a lot of it is already here, just not evenly distributed yet.
So what's going on?
In short, everything at once. But in a good way - for the planet, for the driving experience, for the safety of our roads.
Here's our attempt to describe the tumble dryer that the automobile industry is currently in mid-cycle.
Everything at once for the automotive industry (only a snapshot)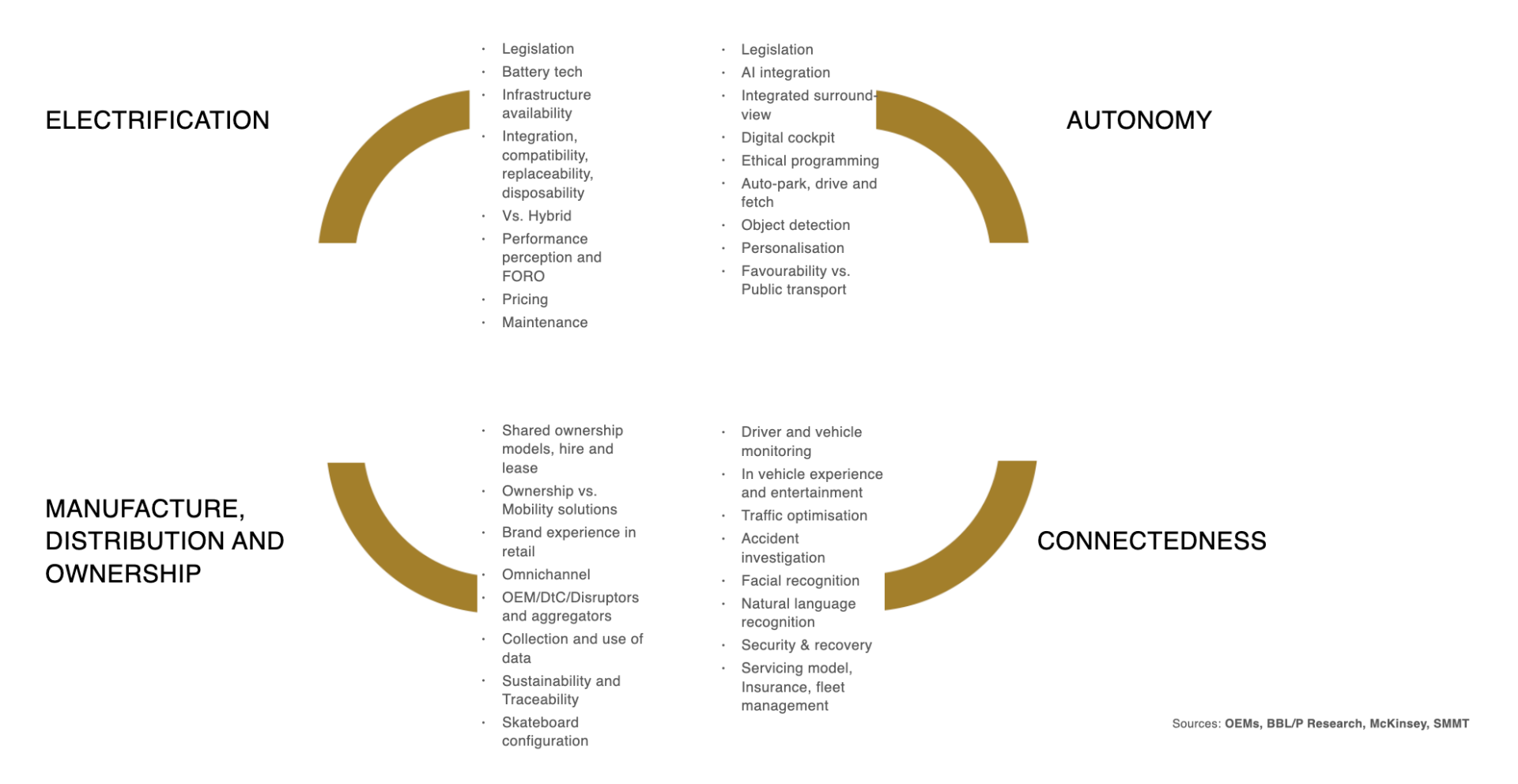 Rather than go into all of it, let's just focus on one area - manufacturing and retail for example.
Like most industries but only more so, automotive is hit with vast NPD costs to win in the race towards electrification. VW Group though the existing brands as well as internal start up Artemis are investing heavily in the current fiscal. Battery tech, powertrain, 'skateboard' design disrupt every aspect of manufacture along with sourcing and sustainability.
And in the luxury space in particular, there is a fascinating existential discussion about the future of luxury mobility. For example once all luxury cars are electric, look rather similar and have very similar performance and driving feel - how are they to be differentiated and how might manufacturers protect premiums?
Once a performance car isn't about grunt and steering feedback, throaty exhausts and nitro settings and has instead a near silent refinement and power with astonishing acceleration; how is the myth of the brand to evolve and stay relevant?
And all this with a backdrop of pandemic, the increased attractiveness of cars as a way to avoid public transport, especially for long distances. This trend is, for example leading to a surge in car ownership in China as well as off-the-scale luxury car sales - and it heralds a challenge that public policy makers in the west simply don't understand. For years buried in a dogma of "public transport, walking and cycling", the pandemic may up-end their world view.
It's possible we will, after all, travel around cities in small autonomously driven, individual cars powered sustainably - just like science fiction always said we would.
And what about automotive retail? I live in west London, near the vast sheds next to the M4 flyover. Honda, Peugeot, VW, Kia, Mercedes, Audi jostle for attention as we head out of town and I can only think that if they are not redundant already, those sheds soon will be in their current configuration as dealerships are challenged as never before.
The dealerships themselves face disintermediation by CarWow and other digital platforms providing consumers with - horror of horrors - price and availability transparency. The second hand market has been reformed by a newly invigorated Autotrader and others. Some of the OEM's are going directly to consumer - led by Tesla but now the dam has been breached - especially for EV's, there is no going back.
In the dealership itself the revolution will continue. For such a large purchase it's remarkable that to date almost no data exchange whatsoever happens before the sale. And yet thanks to configurators and more sophisticated websites the average number of visits to dealership before purchase has dropped from 6-8 only a few years ago to not much more than one. Only 50% of Audi City buyers wanted a test drive.
The shopping is done and "let's do a deal" comes at a point where the consumer knows exactly what they want and the dealer has next to no idea who they are dealing with.
We'd say this is the area most likely to transform over the next few years. The dealers who thrive will know who they are speaking to, what their digital behaviour has been, cars they own and have owned, their car usage (commuter, weekends, long trip holidays, daily infrequent use and so on). Think Nike Apps and their involvement in and assistance every aspect of ownership from training regimes to socialisation. This level of detail in the data might suggest car sharing solutions for customers or format offers (eg the offer of a larger car twice a year for holidays as part of the lease).
Dealers should also be able to understand much more about the financial aspects of the transaction - not just credit scores, but ideal leasing lengths, predicted repeatability and therefore long term yield.
McKinsey as ever made a great contribution to the debate about car dealerships and the future where they asked people what kind of alternate format people might most like and buy from.
People were offered options with reference points - for example "no frills, fast, efficient and predictable - like McDonald's" (22%), "Bespoke and personalised - high touch - like Cartier" (13%) "Casual, knowledgeable, intuitive and fun - like Apple" (24%) "Quirky, cutting edge and innovative - like Warby Parker" (4%), "Easy and Everywhere - like Amazon" (31%).
I don't know about you but I've never been to a car dealership which even approaches the descriptions above apart from perhaps Mini on a good day.
Like everything, there's so much to look forward to.